Today is birthday of very important person for me... who? I will give you some hints... Well the person is male, a very cute male. He is rather short and has cute cheeks and round face. He used to have longer hair and people made fun of him he looks like a girl. His "trademark" is his beautiful tanned skin because he loves fishing and beeing over the sea. He is very artistic person. He owns very wonderful voice, and he dances well... He is also skilled actor, that is why he is in JE agency. He is unique in agency because he is also skilled artis. Actually today he turned 36, but he does not looks his age... he calls himself fishingu riida!!!

Well how was my description of our ojiichan? (lol I can hear him saying ossan ja nai, Oh-chan da! xD )
So this post is the result of me thinking what to do to celebrate Oh-chan's birthday!
Here is my own thoughts about him...
Naruse-san:

1st drama I saw Satoshi Ohno act in and I have to say, for me his best one!!! (nope I not gonna fangirl over Maou again xD) I fell in love with song Truth and slowly became arashian (it is 2 years already huh?) So thanks to Oh-chan I am part of Arashi rainbow fandom :3 That's why he is my 4ever ichi (gomen ne Sho-chan xD)
( I will always have Naruse weakness T_T )
funny weirdo-

When I started watching arashi bangumis, vids etc. I noticed he was always doing some funny/weird things (mainly in older vids haha). Even now he has still his own ways to amuse us... not to mention his dirty mind xD
cutie-

As I was more and more into fandom, and have more pics, watched more vids, I realised how cute he is which was shock for me after Maou...and till now I ask "how this cutie could acted as Naruse and how he made me scared...how?"
sleepy dork-

This Ohno's sleepiness is just so funny and cute. My non-arashian friend calls him Koala xD Nowadays I enjoy he is so fresh and more energetic than in the past. What I find amusing is that when Ohno act lively, everybody is like "eeh what happened?"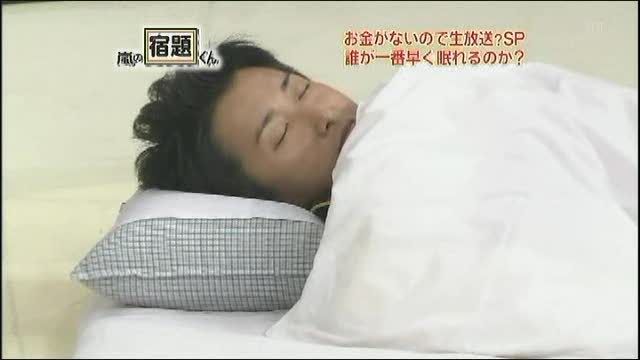 kawaii chibi-

little Ohno-kun with that angelic face and long straight brown hair and cute smile, damn noboby can resist him!! I love his long hair, they so suited him :3 (actually when I first saw his photo with longer hair it was nice shock for me. I was like eeh? he used to have long hair? yeey kawaii haha xD )
genius artist-

so I already knew, he sings well, he acts well, he dances well...but he can also paint? and do sculptures, has ceritificate in caligraphy and he had his own exhibitions? This left big impression in me about him...Now when I know Ohno more I can say he sure is artist-genius for me!!!
fishingu riida-

what is more adorable than Ohno? maybe smiling Ohno? nope smiling Ohno with fish! I love whenever somebody mention sea, fish, fishing his eyes sparkle like kid's... I love the passion about his hobbies :3
sekushii ojiisan-

the more he gets older the more he looks stylish and younger (haha yup paradox- young ojiisan XD ) stylish and mature Ohno is so damn sekushii ne?
dancing king-

Till now whenever I see Ohno dancing I am amazed.It is like totally another person comes to him...like "that other person" in him control his flawles moves. In my opinion Ohno's moves are uncopyable for another dancer. I could see him dancing thousand of times but never get bored of it!!
unique singer-

ok I think I dont need to write nothing more...Arashians know what I am talking about ne? If you are not deaf you can hear how amazing Ohno's voice is...
shining idol-

I remember beeing able to watch Arashi's concert was another step in my "fangirl life". It was really something big and I could not believe I am watching their concerts. (Thanks to my good friend I was able to find them and join to awesome lj communities :) ) And just then I realised how Arashi are awesome artist. I enjoyed get know also their "top-idols-on-stage" side. I was again shocked by Ohno, who not talk much in TV, but he would enjoy every concert to it fullest. And what I find most adorkable is how he wave and show funny gestures toward fans...my fave is his "fishing" gesture XD I would die of happiness if he does it to me in concert ( ok I know I probably would never attend their cons T_T )
cry baby-

speaking of cons my first was Arashi blast in Hawaii! And I am so damn happy it was my 1st one! Thanks to this concert I realised that becoming arashian was good choice. It showed me what Arashi are AAND which kind of people are they. (And how different are thay from other groups). What really got me, was when Ohno could not hold his tears...that moment was very magical and full of emotions. Even me, who was in fandom for 1 year could feel all that kimochi! Ohno-san sure has big heart and love Arashi and fans too :3 (cant wait to see him cry on 20th anniversary con :3) And that is why we love our riida so much :3
So this (and of course much much more) is Ohno-san for me...and my thoughts about him. I

t sure is a long post ne? XD for the people who are still reading it arigatou and I hope you enjoyed it. :3
Riida's birthday are officialy gone!! I hope he enjoyed them to fullest...